【Forward】Student Counseling Center - FREE Cross-cultural Adaptation and Self-Care Workshop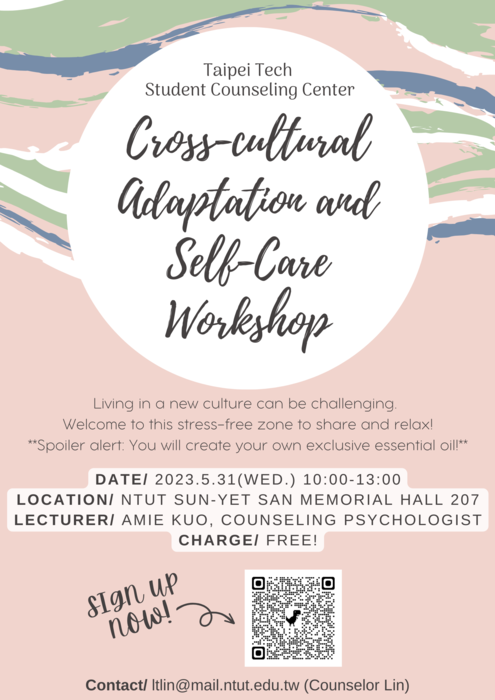 Living in a new culture as an international student can be challenging. Cultural shocks, homesickness, language barrier, life adjustment, and bonding with new friends… are all potential stressors you might have.
We feel you and we would like to support you! NTUT Student Counseling Center has prepared a Cross-cultural Adaptation and Self-Care Workshop for you!
This is a safe space for you to check in with yourself and unpack your thoughts. Welcome to this stress-free zone to share and relax! Don't worry, the workshop will be conducted in English.
**Spoiler alert: You will create your own exclusive essential oil!
Date: 2023.5.31(Wed.) 10:00-13:00
Location: NTUT Sun-yet san memorial hall Building, Room 207
(please refer to the attached file for the location)
Lecturer: Amie Kuo, Counseling psychologist
Charge: FREE! and we also offer FREE LUNCH BOX!
Sign up NOW: https://forms.gle/MBFQRjYC5hBai2hH6
If you have any question, feel free to contact me:Counselor Lin, ltlin@ntut.edu.tw.