Work Permit
International students who wish to do an internship, department research or part-time job in Taiwan (either on-campus or off-campus) are required to apply for and obtain a work permit before starting work.
Warning:If you are caught breaking the rules, you will be fined (30,000NTD~150,000NTD), and you will be deported back to your country.
A. Applicable Individuals
International students, Overseas Chinese students and other international Students of Chinese origin enrolled in a public or registered private college/university

B. Online Application Procedure (Please refer to the attachment 1 )

The Work Permit application requires 7-10 working days (not including weekends) to process.
Link to the application website : https://ezwp.wda.gov.tw (IE browser is required)
Create an account.
Login, and then click "Student Application Management" to create a new application.

"Work Permit" : If it is your first time applying or your work permit has expired, please select this option.
"Permit Re-issue" : If you lost your unexpired work permit, please select this option.

Turn in the document, Work Permit Application for Taipei Tech Overseas Students as the attachment 2, to the OIA with the following steps :

Application number provided by the Ministry of Labor online services.
After filling the application form (attachment 2), please have it signed or stamped by both your advisor and your department.
Turn in the application form in person to Ariel at OIA because the information on the application form needs to be checked. (If you have any questions, please email: arielchen@ntut.edu.tw)

Complete the application form

There are three ways to pay the examination fee. (a) ATM, (b) postal remittance, (c)Taiwan pay
(a) ATM:Select "BILL PAYMENT(TAX) / OTHER PAYMENTS" option, and key in account NO.
(b) Postal remittance:Go to a Post Office's banking section. Fill out"Giro Deposit Slip" and pay the $100NTD fee .
Note:If you have any problems as you enter information from the examination fee receipt. You could click on the"?"icon. The system will display detailed instructions to assist you. Please keep your receipt until you get your work permit.
If you do not select the "pickup in person" option , the agency will send your working permit to the school. When OIA gets it, we will send you an email.

Upload the file

Upload

unexpired passport file

to "Photocopy of Passport" folder.
Upload

student ID card

front file to "Photocopy of student ID card" folder.
Upload

unexpired ARC file

(back and front) to "Front and back photocopy of the resident certificate" folder.
Upload

enrollment certificate file

to "Others (including school required documents)" folder.

Submit the application to school by selecting the "submit to school for examination" option.

Please check the application online status frequently.

If your application status is retreated or shows corrections, the system will also show the reason, and please revise and submit again.

C. Other Regulations
For applications made in the Fall semester, the work permit is valid until March 31th of the next semester; for applications made in the Spring semester, the work permit is valid until September 30th of the same year.
**If students will gradaute of the current semester, the work permit is valid until June 30th. The period validity of a work permit is six months at most.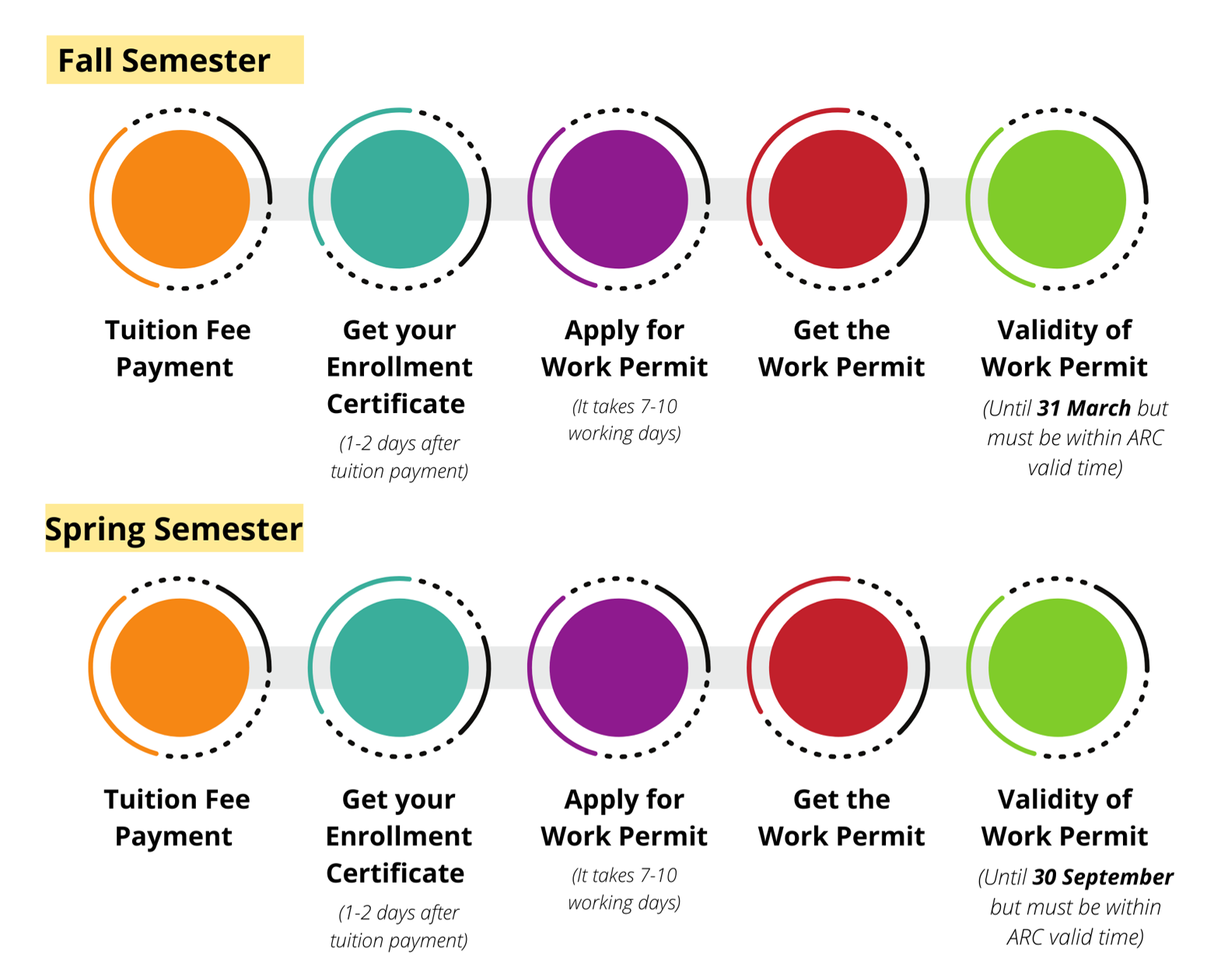 Except for winter and summer vacation, the maximum work hours are 20 hours per week.
Students should return the work permit (if still valid) to the OIA if they suspend or discontinue their schooling.
For more details and regulations, please refer to Workforce Development Agency website (http://www.wda.gov.tw/).
Falsely providing information is punishable by school regulations, and the applicant will be responsible for all legal matters.

Document Download

Work Permit Online Application Guidelines
[ DOWNLOAD ] 1.7 MB

Work Permit Application Form and Submit it to OIA (Overseas Students Advising Session).
[ DOWNLOAD ] 204 KByte